My last blog was more serious than I like to be, so… something more cheerful sounds good for tonight, yes? Like killing people and climbing cathedrals to dive off into hay. ASSASSINI!
My first encounter with Assassin's Creed was when my ex showed me a trailer for the first one — he said it would be like Prince of Persia, which I had never played and didn't really care about. I thought it looked interesting the same way I think pretty much everything at E3 looks interesting, but not always worth buying. I was especially skeptical about it because my ex was interested in it, and I think we shared an interest in maybe one game besides that.
At some point before it came out, I got really excited about it, although I still don't remember why. I pre-ordered the collector's edition, left school early to pick it up, then skipped the rest of the day so I could play… and play… and play.
It was fantastic. No game has gotten me that enthralled in such a short amount of time. I even tried with other games, since Assassin's Creed only comes out once a year (around my birthday, in fact) and I need something else to occupy my time while I wait for the next installment. In the last few years, nothing has been able to do that for me. The first Assassin's Creed game wasn't even that good, it was repetitive and a lot of people gave up on the rest of the series because of that first impression, but the second was improved by leaps and bounds, and Brotherhood was an improvement on that, and Revelations looks to be even better.
So, I started a collection of memorabilia. The first thing I got that was Assassin's Creed related, aside from the games, was this shirt: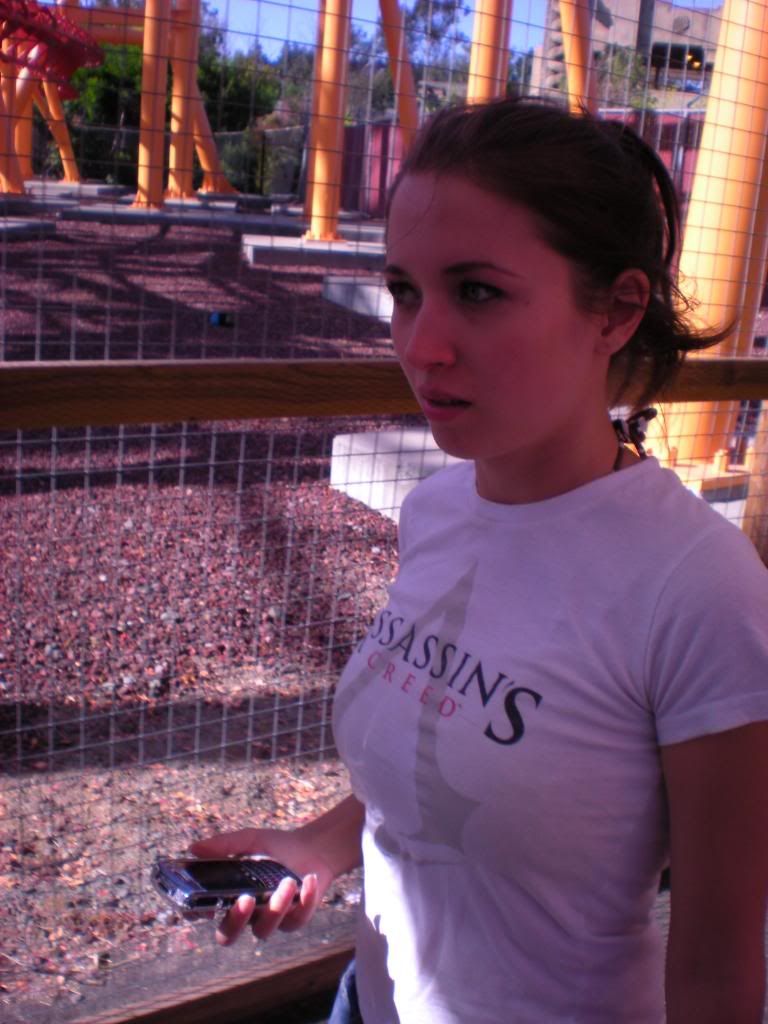 It's quite simple and… well, boring. So I continued on my quest for Assassin's Creed stuff. I ended up with a few more things:
I also have an Assassin's Creed skin on my PS3, I had a set of Assassin's Creed DS accessories, and I've owned all of the games at one point or another. When I was in Le Havre, France, I bought the Assassin's Creed White Edition. It's still sealed — and I want it to stay that way.
I actually switched my major to history for awhile after beating the first game, too, mostly because I wanted to know what actually happened during the times that the Assassin's Creed games took place, and when I was taking Italian (again, because of Assassin's Creed) I wrote my reports on Lucrezia Borgia.
My infatuation with Assassin's Creed might be a bit extreme, but it also motivates me to do things I wouldn't care to do otherwise, so I don't think it's as bad as it could be. I've also started selling some of my Assassin's Creed things, because travel (which the Assassin's Creed games have made me want to do more of) has become a higher priority than having multiple copies of the same game.
So, question: have any games inspired you to do anything you wouldn't normally do? Which games, and why?