The last month has been amazing. I moved to southern California in late May, and while it sucked to leave everyone in Portland, I've had a great time getting my life started down here. This blog is most likely going to be a ton of pictures, so… you've been forewarned.
On May 27, my mom flew up to Portland to drive down to California with me. She rented a behemoth of a vehicle: a Tahoe.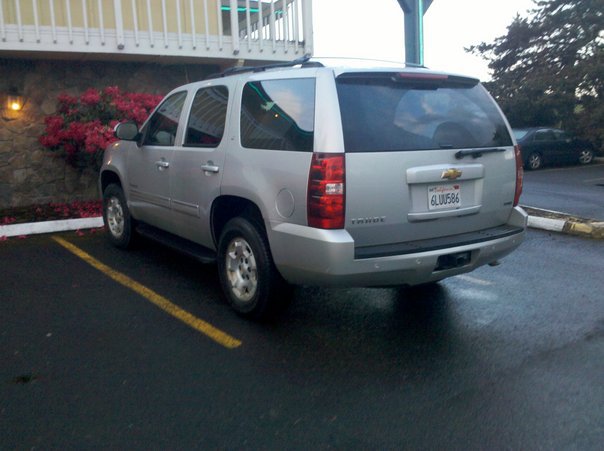 I have no idea how people drive those things comfortably, but it fit the contents of my entire room in it. Certainly no one needs that much room. My dad and I went out to dinner at The Golden Touch, which is a restaurant my parents took me to when I was a baby, then I went to dinner with my mom at Shari's — right across the street from my house. It was actually really good for me to go there because my friends and I used to go there all the time. 24 hour milkshakes ftw.
After we went to dinner, I brought my mom to her hotel, then went by my beautiful cousin Jada's house to say goodbye again. We've had very little time to spend together in the last few years because she's been in Eugene (and just graduated!) so it sucked to leave her again. When I got home, my dad and I started loading up the Tahoe.
Here's a size comparison:
We got everything loaded, then I went to sleep in a very empty room. I didn't cry at all that night, although I had cried myself to sleep the night before. I think I was too focused to be upset about it.
When I woke up the next morning, at 5 AM, I pretty much rushed around, got ready, loaded Schala into the car, then started driving. Backing the Tahoe out of my driveway was scary as hell — the SUV was almost as wide as the driveway, so I had about a foot on either side. Eek. I picked my mom up, then refused to let her drive. I didn't want to feel like I was being taken from Portland, I wanted to feel like I had control and was making this decision myself.
Once we got down to Salem, we stopped to eat breakfast, and feed Schala, then my mom started driving and I let Schala sit in my lap.
So, yeah. We got here eventually, and we unpacked the Tahoe… in the living room. Like this:
Yep. It was awesome. My room looked like this when I arrived:
So, in the next few days, my brothers, mom, step dad and I cleared out the room. We were originally planning on keeping the desk (seen to the left in the most recent picture) in the room, but my bed wasn't going to fit with it.
And now… it looks better.
Bryce arrived here on the first of June, so we've been spending pretty much all our time together, including Six Flags, E3, EDC, and the trip we're planning to Portland in a week or so. Once I get all the pictures and stuff together, I'll write another blog about it, along with some updated pictures of my room.